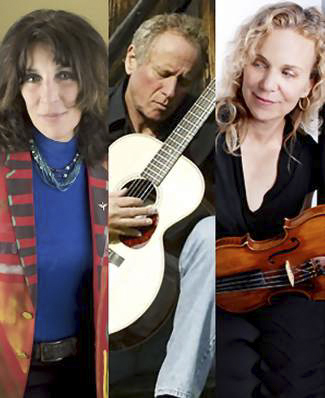 Three captivating artists who rose to fame recording for the Windham Hill label come together to celebrate the holiday season Sunday during a performance presented by the Center for the Arts. Grammy Award-nominated singer, pianist, fiddler and guitarist Barbara Higbie put together this Winter Solstice ensemble with Grammy Award-nominated pianist Liz Story and the guitar playing Windham Hill label founder, Will Ackerman. Read More
From The San Francisco Bay Guardian by Derk Richardson:
If the multifaceted Barbara Higbie seemed out of place on the Windham Hill label, for which she recorded her solo debut and her commercially successful albums with the eclectic band Montreux, her long-awaited second solo CD further defies the categorization so essential to today's record and radio industries. A jazz pianist who can write and sing like Laura Nyro and Carol King, a prize-winning folk fiddler who will interpret a John Coltrane tune through a French vocal or add her own lyrics to one of Django Reinhardt's last compositions, Higbie brings all her gifts to bear on the self-produced I Surrender.
Pop radio could jump on such melodic love songs as "Harmony," "Line of Gold," "Where You Are,' and the title track–if their openhearted sincerity didn't run counter to fashionable irony and cynicism. Jazz stations would play the buoyant, Ghana-inspired "Onyame"; the haunting Brazilian piano and violin ballad, "Water Into Wine"; the romping "Baby Buddha"; or the rolling 'Mudslide"- if "jazz" hadn't become just another consultant-contrived programming straitjacket.
Sadly, no mainstream format exists for the smart, refreshing fusion Higbie invents by judiciously mixing her piano, violin, guitar, Celtic harp, synthesizer, and bouzouki with David Balakrishnan's violin, Nina Gerber's and Steve Erquiaga's guitars, Todd Phillips's and Benny Reitveld's basses, Steve Campos's trumpet, George Brooks's saxophone, Billy Lee Lewis's drums, and Chris Webster's and Shabda Owens's harmony vocals. Funny how music so emotionally straightforward and musically accessible can defy so many conventions.
Yoshi's Oakland made a brilliant choice when it selected pianist, violinist, guitarist, singer, songwriter Barbara Higbie to be its first-ever artist-in-residence. The Grammy-nominated, Bammy-winning Higbie is one of the best-connected musicians in the Bay Area, appearing on more than 65 albums over the past 25 years with everyone from Carlos Santana to the Kronos Quartet, Cris Williamson and Bonnie Raitt. At Yoshi's, Higbie invites a different set of friends to perform with her every month—a fantasy come true, says the longtime Berkeley resident. "The chance to assemble great musicians in one of the best venues in the country is a huge honor," she told SF Gate last fall.  Read Full Article
Higbie is a high priestess of collaboration. She has played with musicians as different as Bonnie Raitt, The Kronos Quartet, Milton Nascimento and Spyro Gyra, and she has performed on more than 65 albums.  —SF Gate  Read Full Article

From The Performing Musician by Neil Fagan:
Higbie is an accomplished pianist and singer/songwriter who also handles guitar, violin and the bouzouki quite nicely. She released an excellent album, Signs of Life, on Windham Hill before taking the indie route, and I Surrender shows her many moods and her many talents. Those moods run from the standard pop stylings of "Harmony" and the title track to the Latin beat of "Where You Are" and the jazz-soaked cover of John Coltrane's "Lonnie's Lament," which also shows off her French.
The instrumental "Onyame" was inspired by and dedicated to the people of Ghana, West Africa, and has the appropriate hint of a world beat. "Baby Bhudda" is a propulsive piano/violin instrumental with the kind of unexpected melody that gets stuck in your head all day. A blue, muted trumpet sets the mood of "Anouman." "Mudslide" is another instrumental that revolves dueling piano and violin.
Higbie's rich alto might not soar the way her piano and violin do, but it sounds right at home when celebrating the comforts of home in "Line Of Gold." I Surrender shows Barbara Higbie to be a major talent.  — Neil Fagan, The Performing Musician