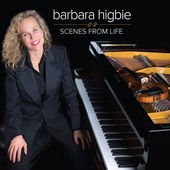 Scene From Life (2014)
Always eager to explore new musical directions, multi-instrumentalist, Barbara Higbie introduces her next creative phase with a gorgeously cinematic new album, Scenes From Life, which is slated for release on A-Train Entertainment on October 21, 2014. Moving imperceptibly from composed to improvised passages, the music draws on her vast and vivid stylistic palette without ever settling into any one genre's conventions.
01.  Irreducible Mind
02. Walking
03. West on County D
04. Emma and Esi
05. Bella
06. VW Bug
07. Variations on a Happy Ending
08. Ewe Tune
09. Michael's Song
10. Duet
11. Lena's Dream
12. Resurrection
13. Neptune
Alive in Berkeley
High fidelity, high energy recording of new material and greatest hits with an all star band including Teresa Trull, Vicki Randle, Katrina Krimsky, Julie Wolf, George Brooks, Celso Alberti and Dewayne Pate.
Barbara has never sounded better on piano, vocals, fiddle and guitar.
01. Waiting Song (B. Higbie)
02. Just Like A Woman (B. Dylan)
03. Lonnie's Lament (J. Coltrane / lyrics by B. Higbie)
04. Next Time (B. Higbie)
05. Signs Of Life (B. Higbie)
06. Tideline (B. Higbie)
07. Azzola Tune (B. Higbie)
08. Slow Way Home (B. Higbie)
09. Egrets (B. Higbie)
10. I Surrender (B. Higbie)
11. To Be (B. Higbie)
12. St. Anne's Reel / Tip The Canoe (trad. /B. Higbie)
Greatest Hits
Greatest hits from 1982 to 2000 Includes "To Be", "Variations on a Happy Ending", "Baby Buddha", "I Surrender".
01. To Be
02. Waiting Song
03. I Surrender
04. Signs of Life
05. Harmony
06. Lonnies Lament
07. Baby Buddha
08. Evening Rain
09. Variations on a Happy ending
10. Tideline
11. Line of Gold
12. Egrets
13. Wishing Well
Variations on a Happy Ending
Solo Piano
01. Variations on a Happy Ending
02. Charlie Riley
03. Palhaco
04. Bella
05. Asleep in My Arms
06. Marcatu
07.True Story
08.To be
09. Rainy Night House
10. Movie
11. Lora Dreams
i Surrender
01. Harmony
02. i Surrender
03. The Starry Sky
04. Where You Are
05. Line Of Gold
06. Onyame
07. Lonnie's Lament
08. Water Into Wine
09. Baby Buddha
10. Anouman
11. Mudslide
Playtime
Barbara Higbie & Teresa Trull
01. Why Wait
02. Sway Of Her Hips
03. Playtime
04. Satin Sunrise
05. Heart Of Beauty
06. Next Time
07. New Found Love
08. You Upset Me
09. Music Box
10. Wings
11. Getting Some Fun Out Of Life
Click here to read about the music of Teresa & Barbara.
A Step Away
Teresa Trull
01. A Step Away
02. Maria
03. Right Back
04. On Our Way
05. No Matter
06. Rosalie
07. Only Time Can Tell
08. How Lucky
09. Heart On The Line
Click here to read about the music of Teresa & Barbara
Live At Montreaux (out of print)
Darol Anger/Barbara Higbie Quintet
with Mike Marshall, Todd Phillips and Andy Narell
01. Egrets
02. The Lights in The Sky are Stars
03. Daughter of Cups
04. Egypt
05. Brann St. Sonata
06. In What Hour
07. Pumpkin Time
08. Tideline
09. Duet
10. Near Northern
Tideline
Darol Anger/Barbara Higbie
01. Tideline
02. Movie
03. Above The Fog
04. Keep Sleeping
05. Onyame
06. True Story
07. Fortunate
08. Gemini
09. Gualala
10. Lifeline